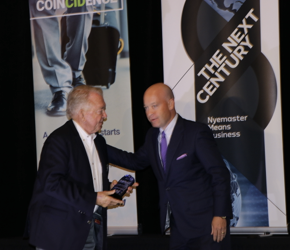 IFP Awarded Fastest Growing Business Award.
Iowa Fluid Power returns to the Corridor Business Journal's list of fastest growing companies. On June 5th, 2019 IFP was recognized as one of the 25 fastest growing companies in the Corridor. The Corridor is considered the area that includes Cedar Rapids, Iowa City, and the surrounding area. To accommodate recent growth, IFP has begun construction on a $5.7-million expansion which will increase our current site in Cedar Rapids by 44,000 square feet for manufacturing and distribution of products.
According to IFP's vice-president of sales and marketing Eric Striegel, diversity is the key to IFP's success.
IFP has also kept up with changes in the industry.
"We have broadened our horizons, when it comes to various technologies. We're not just hydraulics; we pride ourselves in three technologies – hydraulic, pneumatic, and other technologies, electrical & mechanical and automation. "We're able to offer our customers solutions that entail all of those technologies which, at the end of the day, produce better, lower cost solutions for our customers. It's a lot better than pigeon-holing our selves into one technology; I don't want to call us a one stop shop, but that's what we like to be."
The idea of diversity extends to Ifs broad base of customers. "Our customer base is so diversified," indicated IFP Human Relations Director Valerie Burns, "that when one of the industries is down, we have been able to develop new items for agriculture, construction, medical, and all kinds of other industries. One of the things that has helped us is our diverse nature so we can adapt to just about any customer's needs."
‍
IFP is headquartered in Cedar Rapids and has locations in Minneapolis, Olathe, Kansas, and Houston.
Article excerpt provided by the Corridor Business Journal