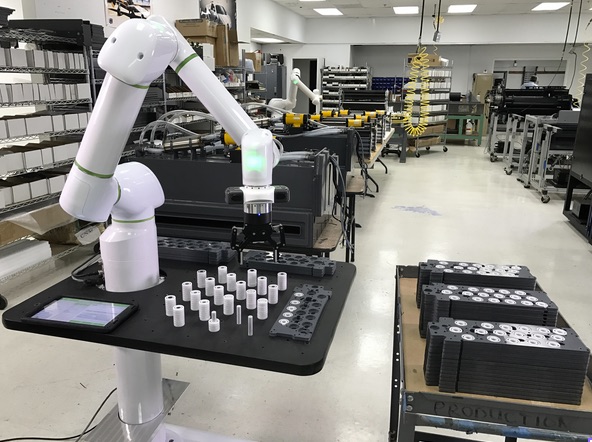 Consider next generation collaborative robots for automating all areas of manufacturing. For example
Loading, Unloading and Part Removal
Machine Tending and Batch Production
Gluing, Painting and Welding
Polishing, Cutting, Deburring and Grinding
Packaging and Palletizing
QC Measuring, Testing, and Inspection
INTRODUCING OB7
OB7 was designed to deliver unmatched automation productivity, accuracy, and Safety. And you can to do it all simply without complicated software programing and coding.
OB7 LEARNS WITH NO PROGRAMMING
If you can do the job, you can show OB7 how to do the job. Learning without programming means that anyone can teach OB7 to do hundreds of complex automation jobs simply and quickly.
NEXT GENERATION COLLABORATIVE & SAFE
OB7 is the next generation of collaborative robots, with new functionality and system design to reduce costs and safely open new productivity horizons. OB7 is fully compliant with ISO 10218-1, work safety guidelines, and requirements. When equipped with safety sensors, OB7 can safely work at high speeds when people aren't present and then slow to safe speeds when people are nearby.